Jailbreak for iOS has evolved a lot over the years. Jailbreak gives you the root access to iOS and lets you install Cydia that have all those jailbreak/Cydia apps and tweaks that Apple doesn't allow into her app store. Some of these jailbreak / Cydia apps & tweaks were so great that Apple even ended up copying them and introducing as built-in features such as Wi-Fi Sync and MobileNotifier. But it didn't stop Cydia app developers from innovationg and introducing new Cydia tweaks and apps for jailbroken iPhone, iPad or iPod Touch via Cydia jailbreak store. We break down the all-time best Cydia apps & tweaks for your iPhone, iPad, or iPod touch. Here's a list of all time best cydia apps available in Cydia…

Note: Your iPhone, iPad or iPod Touch must be jailbroken in order to install these Cydia/jailbreak tweaks & apps. If you're new to jailbreaking and Cydia, make sure to checkout our jailbreak iPhone, jailbreak iPad section.
Zephyr

Tired of pressing the home button to close an app or double-tapping it to sitch between apps? Zephyr is a jailbreak tweak that brings intuitve multitasking gestures to your iPhone, iPad and iPod Touch to close an app or switch between apps. It's also great for those with malfunctioning Home buttons.
Once you've installed Zephyr, a longer swipe up will close the current app. A short swipe up from the bottom of the screen will activate the multitasking switcher. Swipe from the left to switch between recent apps.
Price: $4.99 – Cydia Link
Auxo

There are numerous Cydia tweaks available that bring a new of multitasking to iOS, but Auxo stands out as another jailbreak tweak Apple is most likely going to copy. Auxos Cydia tweak introduces new card preview of recent apps. Instead of merely showing an app icon, Auxo displays a live preview of open apps in multitasking switcher.
With Auxo installed, a wipe down motion will remove the app from switcher (multiple apps can be removed at once using multiple fingers). Tapping and holding any runnign app in switcher will allow you to close all the running apps with a single tap. It also includes expanded music controls and settings toggles.
Price: $1.99
BiteSMS

BiteSMS is one of those Cydia apps that people jailbreak just to use. BitSMS jailbreak app supercharges your text messaging by allowing you to quickly and easily respond to incoming messages from anywhere in iOS without leaving the app you're in. You can also mark message to read later, assign a gesture to compose a new message, and plenty more.
Want this Cydia app? Open Cydia on your jailbroken iPhone, iPad or iPod Touch and search for biteSMS and install it for free (some features are paid).
Price: $7.99 (free with ads)
iFile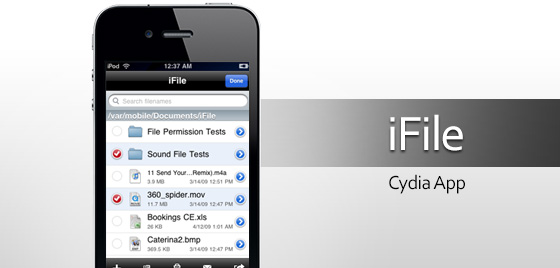 iFile is one of the all-time great cydia apps. It's a full-fledged iOS file manager and viewer that gives you complete control over your iPhone, iPad and iPod Touch, at root level.
iFile is your tool for advanced management and customization of files on your device. It lets you browse iOS directories, copy, paste, rename, change permissions of files and more. However, if you're not experienced, use iFile with caution.
Interested in iFile? Open Cydia on your jailbroken iPhone, iPad or iPod Touch and search for iFile and install it for $4.00.
Price: $4.00 (Free Trial)
Springtomize 2

Springtomize is the swiss army knife of visual customization. It's like 100 jailbreak tweaks in one.Springtomize is just like a toolbox for making changes to your homescreen, dock, carrier logo, and many other aspects of iOS. It allows you to customize your Springboard, to make it look and feel the way you want. Springtomize 2 tweaks set is available in Cydia for $2.99.
Price: $2.99
PKGBackup

When you've a jailbroken device and want to upgrade and jailbreak to a newer firmware, re-installing all the Cydia apps is a pain. This is when PKGBackup comes in handy. PKGBackup simplifies the process of reinstalling your Cydia apps. You can backup your Cydia apps locally or in the cloud and PKGBackup restores them automatically. Want PKGBackup Cydia app? It's available in Cydia for $9.99.
Price: $9.99
SwipeSelection

Text selection and editing on iOS is horrible. SwipeSelection is a Cydia tweak that makes the process of seelcting text and moving cursor around the text a lot easier. With SwipeSelection installed, slide across the keyboard to move the cursor, or hold down the shift key and slide to select a block of text. Want this jailbreak tweak? Search Cydia for SwipeSelection to install it for free.
Price: Free
TetherMe / Pdanet

Carriers likes to force customers to pay twice for the data they use. Tetherme or Pdanet allows you to tether your carrier data with another device without a tethering plan.
Tetherme and Pdanet are the two Cydia apps that primise undetected tethering for iPhone users. These apps claim to hide tethering activity from carrier, that is likely against TOS so use it at your own risk. TetherMe uses the same Personal Hotspot feature that is built into the iPhone for WiFi, Bluetooth and USB tethering. TetherMe is $4.99 in the Cydia app store.
Price: $4.99
SBSettings

SBSettings is one of the oldest and popular jailbreak tweak available in Cydia for free. SbSettings adds a quick drop-down menu containing a variety of system settings toggles. You can customize SBSettings, theme it, and even view it in Notification Center. Using SBSettings you can quickly access Bluetooth, brightness, 3G toggle and more.
Price: Free
NCSettings

Just like SBSettings, NCSettings grants you quick access to the most frequesntly used System toggles. NCSettings adds toggles for system settings such as brightness, locking rotation, wifi, and turning data services on and off straight to the Notification Center. So, basically it eliminated the step where you open Settings app and find your desired settings in different sections. With NCSettings installed, simply swipe down and tap on your desired settings toggle.
Price: Free
iBlacklist

Fed up of an ex or a debt collector calling you over and over? If so, iBlacklist is a great Cydia application that lets you block any number. With iBlacklist installed on your jailbroken iPhone, you can block calls, iMessages, SMS, MMS, FaceTime calls from unwanted people. If you're interested in iBlackList Cydia app, you can get it from Cydia as a free trial with a $12 purchase option.
Price: $12
MapsOpener

Now that Google Maps is a standalone application available in the app store, not a default app anymore, when you open maps links in Safari or other apps, iOS still defaults to Apple Maps. MapsOpener tweak makes Google Maps the iOS default maps app.
If you prefer to use Google Maps over Apple Maps, MapsOpener will force open the maps link in Google Maps app automatically. MapsOpener is a free Cyda tweak and requires Google Maps app already installed.
Price: Free
Winterboard, Dreamboard

If you're looking to customize the look and feel of your jailbroken iPhone, ipad and iPod Touch, the classic Winterboard, and newer Dreamboard have you covered. Winterboard and dreamboard provides the basic infrastructure to customize your device. Then there are tons of themes available in Cydia. Checkout: winterboard, Winterboard themes, dreamboard, dreamboard themes. Both Winterboard and dreamboard are available as free Cydia apps.
Price: Free
Octopus Keyboard

Octopus jailbreak tweak brings the awesome Blackberry 10 keyboard. Once you've installed Octopus on your jailbroken iPhone, iPad or iPod Touch, tapping a keyboard key will bring up tiny predictions for the word you're typing. By swiping up you can select the desired word.
Price: $4.99
IntelliscreenX

Ever wanted to put the Notification Center, Facebook, Twitter, News and more on the lockscreen? Not a problem, IntelliscreenX have you covered. IntelliscreenX lets you customize its look and the information on the lockscreen and makes it easy to see what's going on without unlocking your iPhone.
IntelliscreenX is available in Cydia for $9.99 for new users and a $4.99 upgrade for existing users. It includes Messages+ with your purchase and a free trial is also available.
Price: $9.99 (free trial)
Dashboard X

Android folks has been enjoying windgets since ages, but Apple has done nothing when it comes to widgets, other than a couple in Notification Center. Dashboard X brings an awesome widgets system to your jailbroken iPhone, ipad and iPod Touch. With Dashboard X installed, you can put any Cydia widget (usually meant for Notification Center) on your homescreen. It works with existing notification center widgets ad let you place them on either the home screen or your dashboard.
Price: $1.99
AssistantLove

Siri, the personal voice assistant available on iOS, is a very powerful feature but Apple has yet to broaden the scope of Siri's abilities. Apple will be adding more fuctionalities to Siri in time, until then, AssistantLove is a jailbreak tweak available in Cydia tha brings many useful functions to Siri.
With AssistantLove installed, you can use Siri with Spotify and select GPS navigation apps, including Waze, Navigon, TomTom, and Motion-X GPS. So you can use Siri to quickly get directions via your desired GPS app, with the route already programmed, without even looking at your phone. As a Spotify users, you can also quickly bring up any of the service's more than 15 million songs by using Siri. It also supports Grooveshark and Google Maps.
Price: $1.99.
Quasar

Quasar is a window manager for your iPad. With Quasar installed, whenever you'd open an app it will be opened in a windows just like in your computer. Just like in a window-based operating system, you can resize, move, close or full-screen windows.
Price: $9.99
PasswordPilot Pro

PasswordPilot is a great Cydia Tweak that allows you to customize the App Store's verification requirements. With PasswordPilot pro installed, you don't have to reenter your app store password when making purchases or upgrades. It's indeed an amazing tweak for those who love try new apps from the app store and want to get rid of annoying password prompt from app store.
Just know that with PasswordPilot, you'll be opening the door to anyone else who uses your phone to easily make purchases.
Price: $9.99
My3G

If your carrier doesn't allow FaceTime over 3G or LTE, there's a jailbreak tweak available in Cydia for that. My3G lets you use any Wi-Fi-restricted app over your mobile data network. My3G app is available in Cydia for My3G for $3.99.
Price: $3.99
3G Unrestrictor

Apple has placed restrictions on what you can and cannot do over cellular data connection. For example, you cannot download apps with file size of more than 50MB over cellar connection. This is where 3G Unrestrictor, a Cydia tweak, comes in handy.
3G unrestrictor allows you to download apps over 50MB file size, Factime calls, watch high quality YouTube videos, iCloud backups over cellular connection. What 3G Unrestrictor does here is that it tricks applications into believeing they are on WiFi, even though they are on 3G or LTE.
Price: $3.99
CameraTweak

CameraTweak is a Cydia tweakthough that integrates several new tricks into the stock iOS camera app. With CameraTweak installed, you'll get separate focus/exposure, lapse timer mode, timer mode, composition overlays, white balance, framerate, resolution settings, etc. CameraTweak is available in Cydia for $0.99.
Price: $0.99
Your Favorite App/Tweak?
What do you say about the above mentioned Cydia app & tweaks? In case we missed any of your favorite Cydia app or Cydia tweak, please let us know in the comments section below…