Winterboard is an application that let you customize your iPhone / iPod 2.0+. Winterboard is developed by Jay Freeman aka Saurik, the developer of most popular jailbreak app: Cydia.
Winterboard jailbreak apps allows you to customize Springboard of your iPhone. Using Winterboard you can change iPhone icons, customize applications, status bar graphics, iPhone dock graphics, install themes and change wallpapers of your iPhone Springboard. You can even customize sounds on your iPhone. With Winterboard you can theme almost everything that comes to your mind. Before iPhone 2.0 there was Summerboard but Winterboard has replaced it since iPhone 2.0 and can even load themes of Summerboard.
Note: Winterboard is a Cydia Application, means you need to jailbreak your iPhone to get Cydia and then Winterboard on your iPhone. To Jailbreak your iPhone go to your concerned iPhone jailbreak topic:

Ok! enough introduction to Winterboard. Lets start customizing iPhone using Winterboard. In this first tutorial for Winterboard, We will guide you through Winterboard installation and basic usage. More Winterboard tutorials will be added soon.
Go to Cydia installed on your Jailbroken iPhone.
and then go to Sections tab available at the bottom.
Under Sections Tab, Go to System Menu.
and then locate Winterboard and press it.
Press the Install button available at the top right side of the screen.
On the next screen, hit Confirm button at the top right side to start Winterboard installation.



Winterboard setup will be downloaded and then installed.
On completion, Press The Big Reboot Device button at the bottom.



After Reboot, You will find Winterboard icon on your iPhone Springboard. Press it to launch Winterboard.
When opened, you will find a list of customizations available in Winterboard. OK. We will take you through all these customizations to show you what exactly they does.



Features and their Effect
User Wallpaper
This feature let to set any wallpaper as your springboard background. and in case you have installed any theme this feature will also get rid of that background.



User Lock Background
It will replace any background applied to iPhone Lock screen with the wallpaper that you have selected in iPhone Settings.
Transparent Dock
After enabling this option, your iPhone Dock will be transparent as shown below.



Solid Status Bar
Status bar will become to the front with a solid fill. Compare the above and below screenshots to find the difference.



Server Lock Example
It shows data loaded from some external server on to your iPhone Lock screen.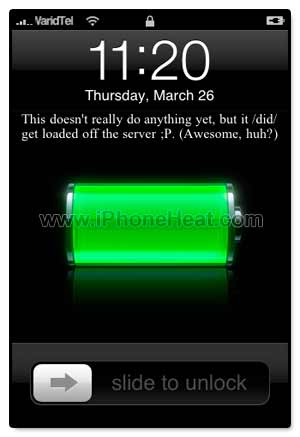 Saurik
It's a custom theme that applies motion background and changes the font style of your iPhone. Indeed a cool video background. How to install themes using Winterboard (Comming Soon!)
No Undocked Icon Labels
Selecting this feature remove text labels of all iPhone Apps except that are on the Dock.



No Docked Icons Labels
This feature remove text labels of all Docked icons.



Dim Wallpapers
This feature requires to enable User Wallpaper to show results. This feature actually Dim the background wallpaper so that your iPhone apps icons stand out more.



Dim Icons
This options will Dim your applications icons along with Dock bar and docked icons.



Black Navigation Bar
This option turns the color of Menu Title bar in to black for many apps.



So, this is all about basic features in Winterboard. Stay tuned for future tutorials for Winterboard like: How to install themes using Winterboard etc. We love to read your feedback and if you wish something specific to get a tutorial on, feel free to suggest.
Don't Miss Out: