The new Redsn0w, like PwageTool and Sn0wbreeze, lets you create custom firmware to preserve iPhone baseband. You can create custom IPSW firmware with RedSn0w with preserved baseband so you may unlock with UltraSn0w or Gevey SIM.




For those unfamiliar, a custom firmware, unlike stock firmware, preserves your iPhone baseband. With a preserved baseband you can unlock your iPhone either using UltraSn0w or Gevey SIM depending on your current baseband version. Before RedSn0w, Sn0wbreeze (Windows only) and PwnageTool (Mac only) were the two options available to create a custom firmware. RedSn0w just makes the process more simple.
When Dev-Team introduced the custom firmware feature in RedSn0w, it was exclusive to Mac but the RedSn0w 0.9.9b9 or later brings the custom firmware creation feature to Windows users as well.
Let's create Custom iOS IPSW with RedSn0w…
How to Create Custom Firmware IPSW with RedSn0w
These are the steps to create custom firmware IPSW file using redsn0w:
Note: steps are same for both the Mac and Windows.
Downloads
Step 1
Execute the downloaded RedSn0w file.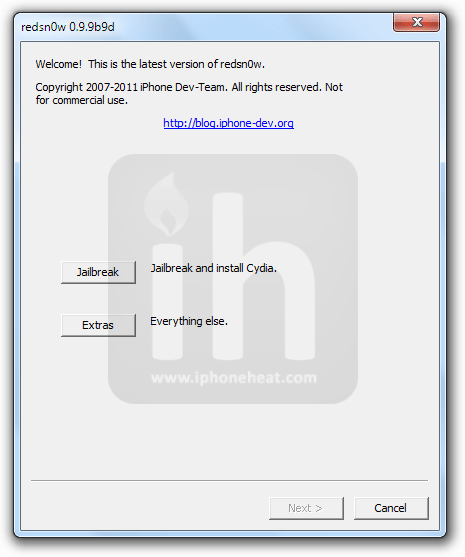 Step 2
Go to Extras and click Custom IPSW;

Step 3
Now browse and select the targeted iOS firmware (IPSW file) for iPhone, iPad or iPod Touch;

Note: If you're creating a custom firmware for your iPhone 3GS, RedSn0w will warn you about iPad Baseband patch.
Step 4
Now Redsn0w will begin creating custom IPSW firmware which may take some time.

Step 5
Once the RedSn0w is done with building your desired custom firmware, a success window will appear.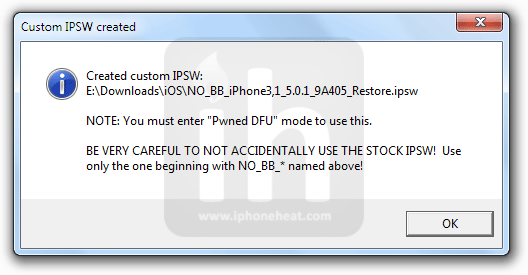 You can find a new custom IPSW file in the same folder where your original (stock) IPSW file was located.

Note: RedSn0w adds "NO_BB" to the name of the custom firmware so you may distinguish it from stock/original iOS firmware.
Warning: If you depend on UltraSn0w or Gevey SIM unlock, you want to preserve your iPhone baseband. BE VERY CAREFUL to NOT ACCIDENTLY USE THE STOCK IPSW! select only the one beginning with NO_BB_*. Stock firmware will update your baseband and you will loose your unlock.
Don't forget to hit the +1, Like and/or Tweet button if you like the post. You can follow us on  Google Plus, Twitter (@iphone_heat), Facebook (iPhoneHeatDotCom), and Subscribe to RSS Feed to receive latest updates.