iOS 5, the major firmware release for iPhone, iPad, iPod Touch has been unveiled at WWDC 2011. iOS 5 has brought 200+ new features to the iPhone, iPad, and iPod Touch and Apple TV 2G.
New iOS 5 features include Notifications, Newsstand, and many more. Hit the jump to checkout the list of all the iOS 5 features (what's new)…

iOS 5 Features List
Notification Center
The first big iOS 5 feature is notifications. Finally, Apple is getting rid of the annoying popups and replacing it with Android like notification center. It resembles to Mobile Notifier, the iOS notification jailbreak app. Notifications also features mini-widgets that show live information from apps like Weather and apps.
The notifications in iOS 5 extend to the lock screen too for quick access, without unlocking your phone.
You get all kinds of notifications on your iOS device: new email, texts, friend requests, and more. With Notification Center, you can keep track of them all in one convenient location. Just swipe down from the top of any screen to enter Notification Center. Choose which notifications you want to see. Even see a stock ticker and the current weather. New notifications appear briefly at the top of your screen, without interrupting what you're doing. And the Lock screen displays notifications so you can act on them with just a swipe. Notification Center is the best way to stay on top of your life's breaking news.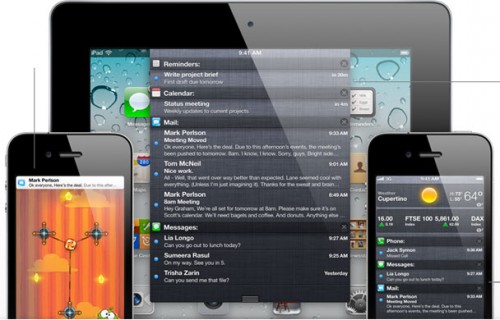 Newsstand
iOS 5 comes with built-in virtual newsstand. Newsstand looks similar to the iBooks app but it features magazines and periodicals.
A custom newsstand for all your subscriptions.
Read all about it. All in one place. iOS 5 organizes your magazine and newspaper app subscriptions in Newsstand: a folder that lets you access your favorite publications quickly and easily. There's also a new place on the App Store just for newspaper and magazine subscriptions. And you can get to it straight from Newsstand. New purchases go directly to your Newsstand folder. Then, as new issues become available, Newsstand automatically updates them in the background — complete with the latest covers. It's kind of like having the paper delivered to your front door. Only better.

Twitter Integration
iOS 5 comes with system-wide Twitter integration. With Twitter intergration, you'll be able to directly post images to Twitter from Camera app. The YouTube App, Safari or even Maps will also support Twitter sharing. Contacts app also features a Twitter address field for Contacts.
Integrated right into iOS 5.
iOS 5 makes it even easier to tweet from your iPhone, iPad, or iPod touch. Sign in once in Settings, and suddenly you can tweet directly from Safari, Photos, Camera, YouTube, or Maps. Want to mention or @reply to a friend? Contacts applies your friends' Twitter usernames and profile pictures. So you can start typing a name and iOS 5 does the rest. You can even add a location to any tweet, no matter which app you're tweeting from.

Safari Browser
iOS 5 will come with revamped Safari browser with new features. You'll be able to reformat a site, taking out ads and reformatting text to make it look better on your iPad or iPhone screen. In iOS 5, you'll be able to save pages for for later offline viewing, synchronize them between all your iOS devices. Safari Web Browser also features tabs in iOS 5.
Even better site-seeing.
iOS 5 brings even more web-browsing features to iPhone, iPad, and iPod touch. Safari Reader displays web articles sans ads or clutter so you can read without distractions. Reading List lets you save interesting articles to peruse later, while iCloud keeps your list updated across all your devices. On iPad, tabbed browsing helps you keep track of multiple web pages and switch between them with ease. And iOS 5 improves Safari performance on all your iOS devices.

Reminders
Reminders app in iOS 5 brings to-do lists to iPhone, iPad and iPod Touch. The app brings a simple interface and lets you sync between iOS 5 devices and Mac OS X computers.
A better way to do to-dos.
Next time you think to yourself, "Don't forget to…," just pull out your iPhone, iPad, or iPod touch and jot it down. Reminders lets you organize your life in to-do lists — complete with due dates and locations. Say you need to remember to pick up milk during your next grocery trip. Since Reminders can be location based, you'll get an alert as soon as you pull into the supermarket parking lot. Reminders also works with iCal, Outlook, and iCloud, so changes you make update automatically on all your devices and calendars.

Improved Camera app
iOS 5 new features also includes improved iOS Camera app. Improvements made to that app includes:
A lock screen shortcut to taking pictures. If you have a passcode, you still can take photos but not view the photo album.
You can take pictures with Volume buttons.
Pinch to zoom, holding your finger on the screen will create an auto-focus and exposure lock around that area.
Edit photos straight from the Camera app + Red-eye removal. Basic photo editing: quick enhance, making shadows, highlights more detailed, and correct color automatically and cropping.
Capture the moment at a moment's notice.
Since your iPhone is always with you, it's often the best way to capture those unexpected moments. That's why you'll love the new camera features in iOS 5. You can open the Camera app right from the Lock screen. Use grid lines, pinch-to-zoom gestures, and single-tap focus and exposure locks to compose a picture on the fly. Then press the volume-up button to snap your photo in the nick of time. If you have Photo Stream enabled in iCloud, your photos automatically download to all your other devices.

Enhanced Mail app
iOS 5 Mail app brings many new features:
Rich Text Formatting
Indentation control
Draggable email addresses, which allows to drag and drop email addresses into to, cc and bcc fields.
Message flagging to call your attention over a particular mail later.
Swipe to Inbox
Dictionary everywhere
Your inbox is about to receive some great new features. Format text using bold, italic, or underlined fonts. Create indents in the text of your message. Drag to rearrange names in address fields. Flag important messages. Even add and delete mailbox folders on the fly. If you're looking for a specific email, you can now search in the body of messages. And with iCloud, you get a free email account that stays up to date on all your devices.
PC Free
Starting with iOS 5, you will not need iTunes and PC anymore to use your iPhone, iPod touch or iPad. All software updates will happen over the air.
Independence for all iOS devices.
With iOS 5, you no longer need a computer to own an iPad, iPhone, or iPod touch. Activate and set up your device wirelessly, right out of the box. Download free iOS software updates directly on your device. Do more with your apps — like editing your photos or adding new email folders — on your device, without the need for a Mac or PC. And back up and restore your device automatically using iCloud.

Game Center
Game Center in iOS 5 also includes new features.
Achievement points.
Access friends of friends
Photos in your profile
Game discovery
Game downloads within Game Center.
Support for turn-based games like Words for Games and Scrabble.
iOS is the world's most popular gaming platform. With iOS 5, you can get your game face on with even more Game Center features. Post a profile picture. Meet your match with new friend recommendations based on the games you play and the players you already know. Discover new games without leaving Game Center. And size up an opponent on the spot with new overall achievement scores.
iMessage
iMassages is another useful new feature in iOS 5. iMassages will allow you to:
Send text, photos, videos, contacts and more to any other iOS 5 user.
You can leave conversations on your iPhone and continue them in your iPad
Delivery notification
Work on 3G and WiFi and everything will be encrypted.
iPad and iPod touch join the conversation.
With iMessage, we've created a new messaging service for all iOS 5 users. You can send unlimited text messages via Wi-Fi or 3G from your iPad, iPhone, or iPod touch to anyone with one of those devices. iMessage is built into the Messages app, so you can send text, photos, videos, locations, and contacts. Keep everyone in the loop with group messaging. Track your messages with delivery receipts and optional read receipts, see when someone's typing, and enjoy secure encryption for text messages. Even start a conversation on one of your iOS devices and pick up where you left off on another.

Text macros
This new feature in iOS 5 lets you to automatically type frequently-used info by simply typing an abbreviation. You can configure text macros feature in
Settings > General > Keyboards > Shortcuts (scroll to bottom)
The text macros feature can automatically turn "tyt" into "take your time" or whatever you've set.
LED Flash for Alerts
iOS 5 brings LED Flash for alerts feature for incoming calls and notifications for better accessibility. You can find this feature under:
Settings > General > Accessibility
The LED flash alert is a great feature for deaf users — when you can't feel the vibration, the LED flashing will definitely make sure you know something is happening on your phone.
This feature will surely appeal to blackberry users that are hooked on its dedicated status LED. Unlike BB's dedicated multi-color LED, the iOS 5 simply blinks the Camera LED flash when an email arrives or an incoming call.
Custom Vibrations
iOS 5 also adds the custom vibrations feature that allows you to assign unique vibration patterns to people in Contacts. Buried in the Accessibility settings
Settings > General > Accessibility
of iOS 5 is a custom vibration creator. You can either choose from several vibration patterns, or create your own by tapping on the screen at your desired tempo from
Settings > Sounds > Vibration
It records taps pattern and uses it for for your phone's vibration.
WiFi Sync
In iOS 5, users can wirelessly sync their iPhone, iPad and iPod Touch with iTunes. WiFi Sync feature eliminates the need of a USB cable to Sync you iDevice with iTunes on your computer. However, it is recommended you perform your initial sync via cable after restoring your device. You have to connect your iDevice via USB to iTunes and check the box that says "Sync over Wi-Fi connection" under
Summary > Options
It will automatically sync with iTunes on your computer when your iPhone, iPad or iPod Touch is plugged in to power and connected to Wi-Fi or you sync manually from:
Settings > General > iTunes Wi-Fi Sync
Photo Stream
When you take a photo on one of your idevices, it is then automatically sent to all your other devices, thanks to iCloud. It eliminated the syncing/sending steps. Your can take your photos everywhere you want them. You can turn on photo stream option from
Settings > Photos > Photo Stream
You can follow us on Twitter, Join us at Facebook, and also Subscribed to RSS Feed to receive latest updates.