In this guide, we're going to jailbreak iPhone 4, 3G iOS 4.2.1 untethered with Greenpois0n RC5. Greenpois0n RC5 can jailbreak iPhone 4, iPhone 3GS untethered running iOS 4.2.1 firmware. Greenpois0n untethered jailbreak does NOT require SHSH blobs for iOS 4.2b3.


IMPORTANT
Greenpois0n recommends a clean iOS 4.2.1 restore. If you depend on unlock, do NOT update to iOS 4.1 or iOS 4.2.1 because UltraSn0w doesn't support new basebands yet. However, iPhone 4 users can update to iOS 4.2.1 while preserving baseband with Tinyumbrella. iPhone 4 users (NOT 3GS or 3G):
How to: update iPhone 4 to iOS 4.2.1 + Preserve Baseband 01.59.00
Tethered 4.2.1 redsn0w Jailbreakers can just run greeenpois0n over it for untethered jailbreak (restore only if you have problem).
If you've RedSn0w Jailbreak Monte, please restore iOS 4.2.1 first.
Greenpois0n can jailbreak iOS 4.2.1 iDevices out of the box.
Greenpois0n RC 5 supports iPhone 4, 3GS (any bootrom), iPod Touch 4G, 3G, 2G (any bootrom) and iPad
How to Jailbreak iPhone 4, 3GS iOS 4.2.1 Untethered with GreenPois0n RC5
Step 1
Step 2
If you're already running iOS 4.2.1, skip to the next step (Make sure you read the imporant part above). Connect your iPhone 4 or iPhone 3GS to your computer via USB cable and restore iOS 4.2.1.
Step 3
Execute Greepois0n and hit the Jailbreak button.

Step 4
Follow the onscreen instructions to put iPhone into DFU mode.
Press and hold the sleep button for 2 seconds
Continue holding sleep; press and hold home for 10 seconds.
Release sleep button; continue holding home for 15 seconds.

Step 5
GreenPois0n will start Jailbreaking your iPhone 4, 3GS iOS 4.2.1 untethered.

Step 6
Once done, Greenpois0n will show the Complete button and there'll be a flood of commands running on your iPhone screen :).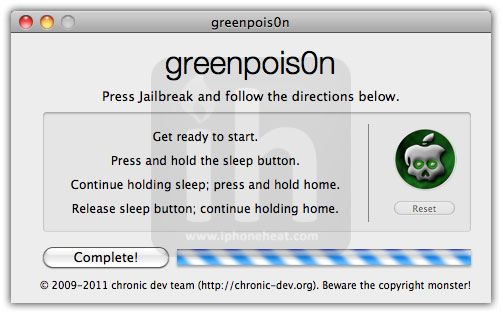 Step 7
You've jailbroken your iPhone 4 or 3GS on iOS 4.2.1. Now open the Loader app from your iPhone home screen and install Cydia (Servers are being slammed so it may take several attempts).
That's it! have fun with your untethered jailbreak iOS 4.2.1 on iPhone 4, 3GS. Now iPhone 4 users who preserved their baseband to 01.59.00 can unlock using the following guide:
How to Unlock iPhone 4 baseband 01.59.00 with UltraSn0w
You can follow us on Twitter, Join us at Facebook, and also Subscribed to RSS Feed to receive latest updates.
Also checkout:
Updates
Download Greenpois0n [All Versions]
Jailbreak iPad 2
JailbreakMe 3.0 to Jailbreak iOS 4.3 Untethered!
How to: Jailbreak iPhone 4, 3GS iOS 4.1 with Greenpois0n
How to: Jailbreak iPod Touch 4G, 3G iOS 4.1 with Greenpois0n
How to: Jailbreak iPad iOS 3.2.2 with Greenpois0n
How to: Jailbreak iPod Touch 2G iOS 4.1 with Greenpois0n
How to: Jailbreak iPhone 4, 3GS iOS 4.2.1 with GreenPois0n
How to: Jailbreak iPod Touch 4G, 3G, 2G iOS 4.2.1 with Greenpois0n
How to: Jailbreak iPad iOS 4.2.1 with Greenpois0n