In this iPhone Step-by-Step Guide, you will learn how to jailbreak OS 3.1 on iPhone 3G using PwnageTool. You will create a custom ipsw and when restored using that custom ipsw it will automatically jailbreak iPhone 3G and will let you install applications.
This iPhone Guide is for iPhone 3G owners having MAC OS machine. Once you have jailbroken iPhone 3G using this guide then you can use UltraSn0w to unlock iPhone 3G.
Create a folder on your desktop and name it: Pwnage. Then download the following files and put into Pwnage folder:

How to Jailbreak iPhone 3G OS 3.1
Step 1
Double click PwnageTool dmg file to mount it.

Click and drag the PwnageTool icon to Pwnage Folder you created and then open it from there.

Warning Box will Popup. Just hit the OK button.

Step 2
Make sure you select Expert Mode from Top menu

Step 3
Select your device i.e: iPhone 3G. A big Green check mark will appear on the selected device.
Now hit the big Blue Arrow button at bottom right to proceed.

Step 4
On the next page, PwnageTool will automatically find the IPSW file. If not found then click "Browse for IPSW" button and select the downloaded IPSW file: iPhone1,2_3.1_7C144_Restore.ipsw. A check mark will appear next to it.


Then hit Blue Arrow Button to proceed.

Step 5
On the next page you will have 6 choices. Select the General and hit Blue Arrow Button to proceed.

Step 6
On the next Page you can decide your Root Partition Size where OS resides. Click activate the phone (if you're on unofficial carrier).
***For the 3.1 firmware you may have to increase the size of your root partition slightly for the IPSW build to be successful. 695MB worked just fine for me***

The Bootneuter settings are greyed out for the iPhone 3G. Click the blue arrow button.

The next screen will show the Cydia settings menu. It allows you to create custom packages so you do not have to manually install them later.

Go to Download packages tab.and hit the Refresh button to display all the available packages. Double click your desired package, it will be downloaded and will be available under the Select Packages tab.

When you have downloaded your desired packages, go back to Select Packages tab and check mark the ones you want.

then hit the Blue Arrow Button to proceed.
Custom Packages Settings will displays listed package settings for your custom IPSW. Leave these settings as is for now. Just click the Blue Arrow Button to proceed.

On the next Custom Logos Settings menu, you'll be able to add your own images as boot logos. Click the Browse button to select your Boot logo and Recovery logo. I just use defaults so deselected all options.

Click the blue arrow button to continue.
Step 7
Now you are  ready to build your custom firmware. Click the build button to select it, then click the blue arrow button to proceed.

Step 8
You will be asked to Save your custom .ipsw file. Save it to the same Pwnage folder.

Step 9
PwnageTool will start building your custom firmware. Wait until it's done.

If prompted enter your Administrator password and click the OK button.

When prompted if your iPhone has been Pwned before, Click No. It allows for a more thorough restore.

You will be asked to turn OFF the device. Make sure iPhone is connected to the USB port and turned off.

Step 10
Be ready to follow directions now.
You will be asked to hold the home button and the power button for 10 seconds.
Then, you will have to release the power button and hold the home button for 10 seconds to enter DFU.


If you failed to follow the instructions, it will show you a message asking if you want to retry?. Click Yes.

Unplug the iPhone from the USB. Turn it OFF, then turn it back ON. Reconnect it to USB and turn OFF the iPhone when prompted.
When followed correctly, PwnageTool  will display a message telling you that it successfully entered DFU mode. iTunes will also pop-up.


Step 11
In iTunes, hold the Alt/Option key and hit Restore.

Step 12
From the popup window, browse to the Pwnage Folder and select you custom .ipsw file that you just created (iPhone1,2_3.1_7C144_Custom_Restore.ipsw) and click Open Button.

Step 13
iTunes will now restore the firmware on your iPhone. This can also take up to 10 minutes.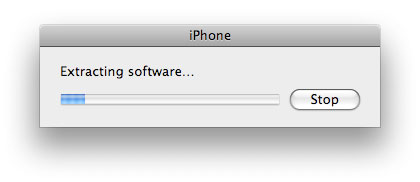 When all done, You have successfully Jailbreak iPhone 3G running iPhone OS 3.1.
Now in Order to Unlock your iPhone 3G OS 3.0 follow this Guide:
Have fun with iPhone OS 3.1 and don't forget to leave your comments.
If you're still out of luck, you can try RedSn0w:
How to Jailbreak iPhone OS 3.1.2 using RedSnow